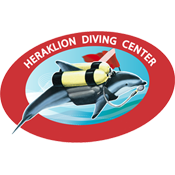 Diving with our boat and diving with easy access from our beach are organized daily for diving spots in the crystal clear waters of Crete.
Ideal places for diving. The underwater world of the island conceals magical and distinct images. Caves, reefs, shipwrecks and sponges make up a wonderful diving destination suitable for everyone.
---
Diving Spots
Wreck Messerschmitt - Hersonissos
25 meters max depth.
Need advanced level certificate.
World War II German airplane Messerschmitt Bf 109. It sits upside down and the tail of the aircraft is missing from the site. You can see the machine gun coming out of the sand.
St George - Hersonissos
Named after the church close to the site, St George is one of the most popular diving spots. It has two parts, the shallow and the deep. Both parts are mainly wall dive.
Shallow part starts from 3 or 6 meters depth and goes down to 10 or 12 meters. It is suitable for all certified levels and there is also a small cave to go in, if the guide decides its safe to go.
The deep part starts from 10-12 meters and goes down to 18 meters max depth. It is suitable for all certified levels but it is not recommended for the very begginers.
Amphorae Reef - Hersonissos
Boat dive to Amphorae reef, a place suitable for all levels.
12 meter max depth.
At the start of the dive we see a lot of pieces of amphorae. An amphora is a type of container of a characteristic shape and size, descending from at least as early as the Neolithic Period. Amphorae were used in vast numbers for the transport and storage of various products, both liquid and dry, but mostly for wine. It is most often ceramic.
Characteristics
Scuba diving points with small and deep depth
Excellent sea conditions
Diving points and advanced level
Groups of divers are determined according to the level of training
Diving equipment supply
Respect all security rules
Accompanied by certified instructors